Indoor Bowling Club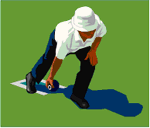 The club meets every Thursday night at 8pm in the Main Hall at the Parish Centre. We have two mats, which means that 16 people can play at the one time (8 on each mat)

We belong to the East Coast Bowling League playing other clubs in the catchment area between Greystones and Gorey. While it is competitive, it is great fun and played in a friendly spirit. We also play friendly fixtures so everyone gets a chance to play matches.

We are always delighted to welcome new members, and newcomers to the sport will be shown how to play. Age is no barrier – for as we say, anyone from 9 to 90 is welcome.

For further details please click here to contact us.